Champions of Justice, Moomba, & Miscellaneous
The following projects deserve mention, but fall into the "miscellaneous" category.

In the mid-'90s, Rogelio Agrasanchez Jr. loaned me the rights to dub a Mexican film, Los Campeones Justicieros, into English.

The Agrasanchez family produced many films during the Golden Age of Mexican Cinema; their films covered all genres, and Rogelio Agrasanchez Sr. made several entertaining action movies that starred popular wrestlers.

I was a huge fan of that sub-genre, but this was years before masked wrestlers entered into American pop culture via TV shows and films like Mucha Lucha and Nacho Libre.

Philip Cable of AAA America-International Entertainment shared my vision, but it was an uphill struggle to sell film buyers on the idea of masked Mexican wrestlers-as-superheroes.

In order to update the English version, I filmed a new wrap-around sequence that featured Medico Asesino Jr., the "son" of one of the wrestlers in the movie. I also secured the rights to use surf guitar instrumentals by The Huntington Cads and The Finks, and had a new score composed and performed by electronic music maestro David Rubin.

Sheffield Abella created a beautiful piece of promotional artwork that was used for posters and fliers: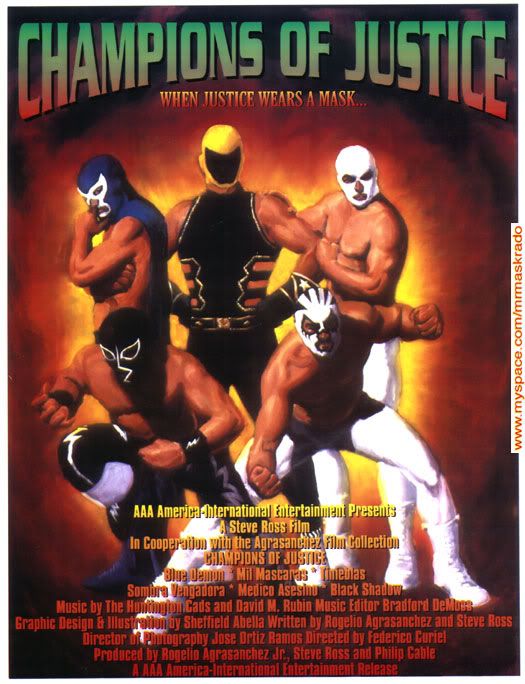 The original plan was for AAA America-International Entertainment to release The Champions of Justice on VHS; the contacts were signed when video tapes were still the the predominant format for home entertainment.

The DVD revolution hit while I was preparing the script and assembling sound elements for the dubbing. The higher standards brought by the digital format rendered our analog sound equipment obsolete, and no-one involved with the project could find a cost-effective way to create a new and improved master print of the film.
Despite everyone's best efforts, it wasn't a mad scientist and his army of super-powered midgets that finally defeated The Champions of Justice; it was money and technology.
However, I did manage to edit a couple of "what might have been" trailers that you can see by clicking the links below...
---------------------------------------------------------

When I was in high school, I created my own Super 8 adaptation of...
THE UNBELIEVABLE MENACE OF

MOOMBA

!!
Before writer Stan Lee and artist Jack Kirby created the Fantastic Four, the X-Men, the Incredible Hulk, and man other legendary characters for Marvel Comics, they collaborated on numerous "monster" stories.

The monsters were often giant-sized alien invaders. They had names like Goom, Groot, Fin Fang Foom, and Moomba. The stories featured white-hot exclamations like, "We can't defeat that all-powerful monster!" or, "It can't be! It's the end of civilization!"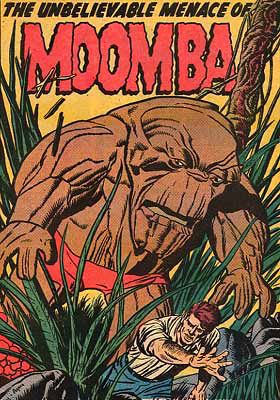 Moomba was a red Speedo-wearing alien that was made of wood. He planned to take over the world with an army that was disguised as African carved sculptures, which had been sold to tourists and art collectors around the world.
When he was ready to strike, Moomba emitted high-frequency energy waves, which brought his wooden army to life. The U.S. military couldn't stop Moomba's subsequent rampage. Only a humble African witch doctor knew how to paralyze Moomba, and command him to return to his world.
Moomba took to the skies, and was joined by his followers. They all merged to form a rocket, and headed for outer space. But we must be forever diligent and watchful...lest they return!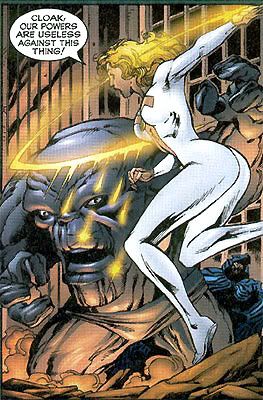 Moomba did return, as seen in this cameo with Cloak and Dagger (above).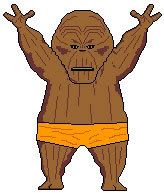 A fan also created this Moomba image, along with a series of other Marvel Monsters.
(All images are copyright their respective owners, by the way.)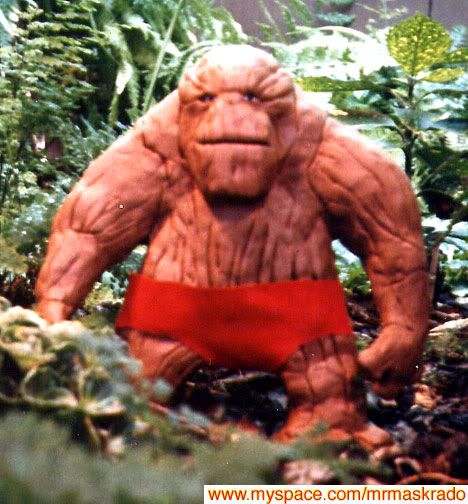 So, using state-of-the-art stop motion and super-imposing technologies, I filmed a trailer that re-created all of the scenes I could afford to adapt!
Each shot was a literal translation from the comic book panel; a similar technique was later used by Robert Rodriguez to create his film version of Frank Miller's Sin City!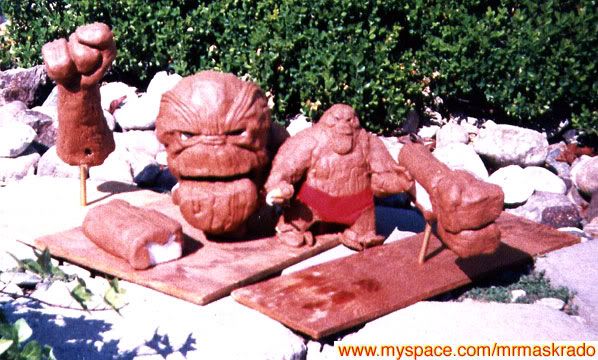 Inspired by the classic 1933 version of King Kong, I sculpted clay models of Moomba's head and hands for close ups, and made a full body miniature for long shots.
And now you can see the results by clicking below...
The Super 8 spectacular is much beloved by fans of Jack Kirby's monster comics, and the T-shirts that I had silk screened for the cast and crew are now sought-after collector's items!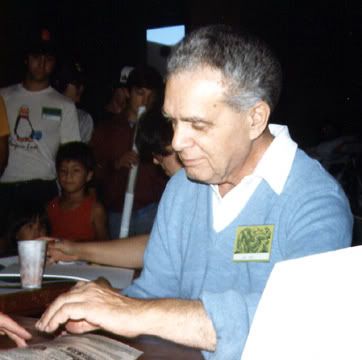 Artist Jack Kirby (above) co-created the Silver Surfer, Captain America, the Mighty Thor, and the aforementioned Fantastic Four, X-Men, Hulk, plus hundreds of other comic book characters.

He also co-created Moomba.
I snapped this picture of him in 1986, and asked him to sign my Moomba comic. He was a gracious, friendly gentleman; seeing Moomba again brought a smile to his face.
---------------------------------------------------
Below is a picture I snapped at the San Diego Comic Con in the mid-'80s.

The fellow in the foreground told me that he had taken time off from his day job as a dishwasher to sign and sell his self-published comics at the convention.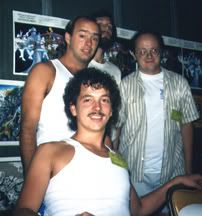 That's Kevin Eastman, and the guy in the background with the glasses and the striped shirt is Peter Laird: they're the co-creators of the Teenage Mutant Ninja Turtles.

At the time this photo was taken, they were concerned that they might not sell enough comics to pay for their table at the convention.
-----------------------------------------

And now for some miscellaneous miscellany...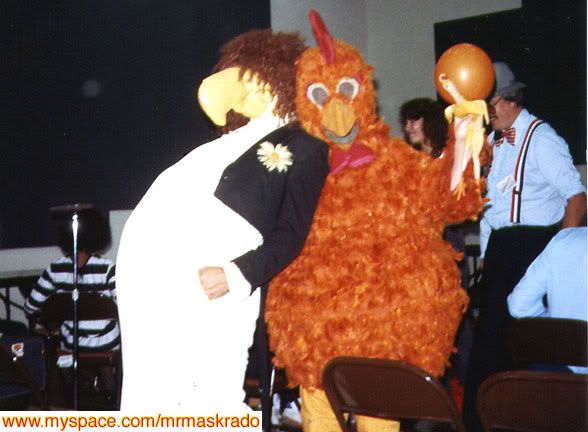 In the late '80s, I was a contestant on The New Gong Show. Rap artists Salt 'n' Pepa (with Spinderella) were among the celebrity judges.
I sang "Devil With a Blue Dress," didn't get gonged, and scored 26 out of 30. There was a tie between some semi-pro singers on that episode (both scored perfect 30s), so I didn't win.

This (see above) was the kind of nonsense that went on backstage. What really surprised me was that many of the contestants that did get gonged were semi-professional lounge acts; some of them had regular gigs in Las Vegas.
All things considered, I got through it with my dignity (somewhat) intact.
And here's the "legendary" performance...