Mondo, Nu What, Crazy Girl, and Knight Watchman: Coming Whenever
Here are a few of the projects that, for one reason or another, have been delayed.
Mondo was to be a collaboration with my pal, Paul Roche.
Paul is an expert at drawing Japanese-style superheroes and monsters. Paul had written and drawn a graphic novel called Mechamen, which was one of the first American attempts to capture kaiju (giant monster) action in comics form.
My ten-page Mondo script introduces our hero, Armando, as an eccentric millionaire and robotics expert. Armando built himself a cybernetic suit of armor with gadgets and weapons that give him an edge in his battles against the Pollmutants (TM), creatures that were warped into monsters by hazardous waste.
Armando is thirtysomething, but acts like teenager. He made his money from the toy company he founded; his most successful toys are action figures based on Mondo (TM), his metallic alter-ego, and the Pollmutants (TM) he has fought.
Armando is somewhat awkward around women, so he built "the perfect woman," an android he named Maria, and married her. Maria often accompanies Mondo on his superheroic missions, and she has her own popular line of fashion dolls and accessories.
Even though many outspoken religious leaders and parents' groups protest that Armando/Mondo is a terrible role model for children, his merchandise and media presence is everywhere: TV shows, comic books, video games, etc.
Armando maintains a pretense that he and the armored superhero Mondo are two different people; people who want to stay on his good side play along, even though almost everyone has guessed his secret identity.
One thing that does remain a secret from the general public is the strong possibility that the Pollmutants may have been created by toxic materials dumped from Armando's own factories.
It's unclear if Armando is aware of this; perhaps he thinks that by fighting the Pollmutants he's cleaning up his own mess. Or, maybe the Pollmutants are merely a source of monster designs for Armando's toys, and his real-life battles with them are nothing more than publicity stunts and ads.

I still own the story and the script. Paul completed some concept art and a few comic pages before he succumbed to the dreaded day job syndrome.
-----------------------------------------------------------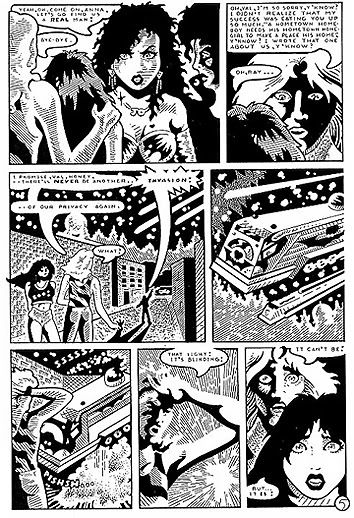 (Art by Lyndal Ferguson)
Nu What was based on a short play I had written in high school, which was inspired by rock 'n' roll musicals like Richard O'Brien's Rocky Horror Picture Show and Shock Treatment.
In Nu What, a Bon Jovi-esque rocker and his girlfriend are abducted by punk rock and new wave aliens. The aliens had been exiled from their home planet, which had been overrun by space hippies, but they planned to return and seize their rightful place as the New Generation.
Lyndal Ferguson's art made Nu What timelessly hip and incredibly cool; the styles of the '80s never looked so good.
He completed most of the first chapter, but I think we both realized that comics might not be the best place for a music-themed story; at the very least, the comic should be accompanied by a soundtrack CD.

Actually, Nu What would definitely work best as a musical play, or a movie.
-----------------------------------------------------------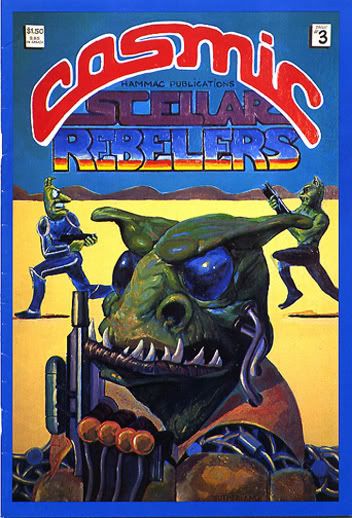 (Copyright Hammac Publications)

After the success of the Teenage Mutant Ninja Turtles, dozens of self-published, black and white comics with bizarre titles began to appear in comic shops.
Some of those comics were direct parodies of the Turtles, like the Adolescent Radioactive Black Belt Hamsters, and the Pre-Teen Dirty-Gene Kung Fu Kangaroos. A few, like Ninja High School, are still published to this day. Most were oddities that faded into obscurity.

Hammac Publications' Cosmic Steller Rebellers was one of the latter. (That's Hammac's spelling of "Steller" and "Rebellers", not mine.)

My friend, Hector Diaz, had been working for Hammac Publications. (He "cast" me as a secret agent in his vampire comic, Eternal Thirst.) Hector said that Hammac had received an infusion of money, and was looking for a new writer-artist team to re-start their flagship title, a humorous sci fi adventure called Cosmic Steller Rebellers.
I was interested, received complimentary copies of the previous issues, and wrote the script.
Shortly after the artwork for Cosmic Stellar Rebellers was finished, the company went out of business (despite the aforementioned financial assistance).
All of Hammac's titles--including Hector's Eternal Thirst comic, which was their big money maker--were canceled.
However, my saga of the Cosmic Stellar Rebellers has two interesting outcomes...
First, the artist who drew my script was none other than Scott Michaud: it was through Cosmic Stellar Rebellers that we were brought together and introduced.
Scott was just a teenager at the time, but his work showed a lot of potential. I later called upon his artistic talent to collaborate with me on T.R.A.S.H.Team and Chesty Sanchez.
Second, Hammac had a young, in-house artist, who had been described to me as a "John Byrne imitator." He had drawn the issue of Rebellers prior to my relaunch, and was supposed to continue with the series. I didn't want someone with a derivative art style to work on my script, so Scott was put on the team instead.
Paul Pelletier, that so-called "imitator," went on to much better things. Not only does his art surpass most of John Byrne's current work (in my opinion), Paul has drawn major comic book titles for major publishers, like Fantastic Four and She-Hulk for Marvel, and Green Lantern for DC.
-----------------------------------------------------------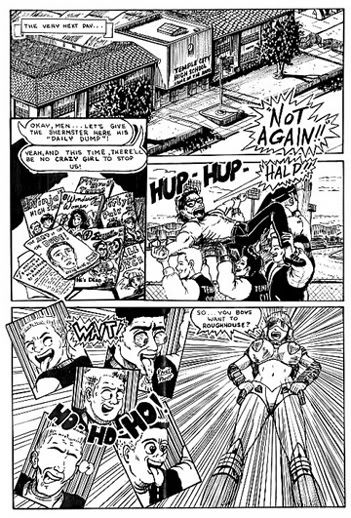 (Art by Don Yee, lettering by Colleen Kreuper)

Crazy Girl was a slapstick anime parody, cut from the same cloth as Lum, Project A-KO, and Ninja High School.
A plain Jane is infatuated by a good-looking science nerd; in an effort to impress him, she builds a high tech battle suit, which also happens to be skimpy, and "feature-enhancing."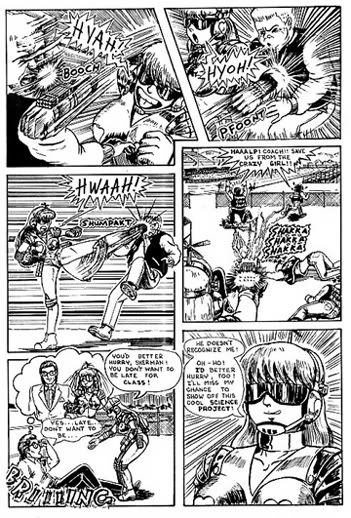 (Art by Don Yee, lettering by Colleen Kreuper)
Don Yee's artwork on this project was meticulously detailed. (He hand drew every tile on the roof of the school, plus all those "speed lines"!) I packed plenty of jokes into the script, and Don added even more.
I had hoped that Crazy Girl would be published in Mangazine, but during the many (many!) months it took for Don to complete the art, Antarctic Press changed Mangazine's format. They reduced the number of pages designated for comics, which stretched the inventory of stories they had already lined up for publication from months to years into the future.
By the time the artwork was completed, and it looked like there might have been an open slot, Mangazine changed its format again, and Crazy Girl was not printed.
If Crazy Girl ever does see print, it will appeal to the younger generation of anime and manga fans, who are just now discovering the extensive history of Japanese animation.
-----------------------------------------------------

(Art by Carlos Tron, Intercepto Copyright and TM Carlos Tron )

Intercepto was Carlos Tron's creation.
The characters had made brief cameos in Mexican comics, but (Carlos had a notebook filled with concept sketches, and enough story ideas for an ongoing series.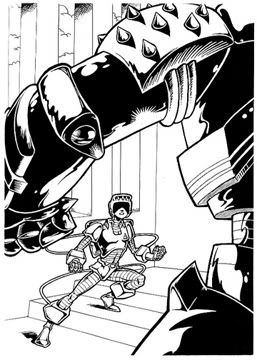 (Art by Carlos Tron, Intercepto Copyright and TM Carlos Tron)
I was fascinated by the characters and Carlos' artwork, so with my coaxing, we re-invented his galaxy-spanning epic into an English-language, American-style comic book.
While I worked on the script, Intercepto and his friends made a couple of appearances in the San Diego Comic Convention's program books. (See below.)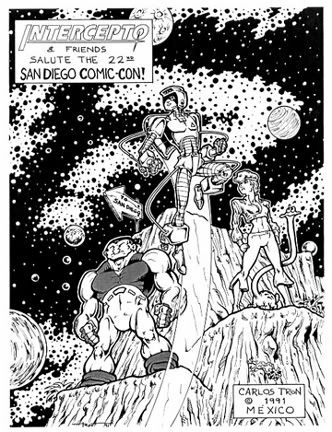 (Art by Carlos Tron, Intercepto Copyright and TM Carlos Tron)
I finished a script for the first issue, but Carlos moved back home to Mexico City, and pre-internet communications made it difficult and expensive to collaborate.I've heard from mutual acquaintances that Carlos has since quit the comics business altogether, which is a great loss for the comic book industry.
---------------------------------------------------------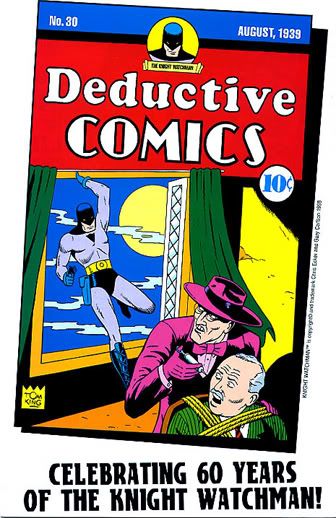 (Art by Chris Ecker, Knight Watchman is Copyright and TM Big Bang Comics)
Knight Watchman is a major player in the Big Bang Comics universe. Big Bang stories and artwork combine homages, satires, and parodies of comic storytelling styles that were popular in past decades. They feature characters that were inspired by iconic heroes and villains.
The Knight Watchman comics were primarily Chris Ecker's creations.
People with sharp eyes may see a similarity between Knight Watchman and another popular comic book character (one whose name begins with "B" and ends with "N").
The artwork above looks like it came from the Golden Age of Comics (the 1930s through the mid-'50s), and the cover below strongly resembles Frank Miller's style from Dark Knight Returns(1986), but Knight Watchman has only been around since the early '90s.
(For more information, check out www.bigbangcomics.com.)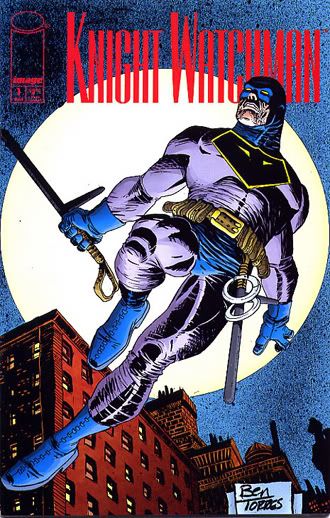 (Art by Ben Torres, Knight Watchman TM Big Bang Comics)
Filmmakers Philip R. Cable and Chuck Dichiera can make feature films on tight budgets that only Roger Corman would appreciate. They shot a live action, Justice League-like pilot called Knights of Justice. It featured Knight Watchman (played by martial artist Allen Woodman, plus other Big Bang characters. (I played a robotic henchman.)
Philip Cable also wrote a screenplay for a Knight Watchman feature film, which I revised, and turned into a spec script.
Like the comics that inspired it, our Knight Watchman movie script contains elements from several decades' worth of action films: furniture-smashing fist fights from the Republic serials of the '40s and '50s, spies and gadgets from the James Bond craze of the '60s, demolition derby vehicle chases from the '70s, ninjas from the '80s, and the Hong Kong-style action that hit the States the '90s.
Philip Cable was very careful to write a script that could accommodate resources, and budgets, both large and small.
Knight Watchman was intended to be a moderately-budgeted film, making use of available locations and character actors; but the same script could be made into a major motion picture with larger sets, big-name stars, and more elaborate stunts.
Knight Watchman wasn't written as a period piece per se, but it could easily be filmed as one, or a creative production designer could go wild and blend several decades into a timeless new look. The script was completed when movies based on comic books were at a low ebb, before the X-Men and Spider-Man films led to a Renaissance of superhero franchises and blockbusters.
There's been interest in our Knight Watchman script (at one point, a producer was going to recruit Stan Lee to re-write it and provide name value), but it needs another aggressive push.
If there ever was a right time, then that time would be now...