Deco City: An fx Gallery
In the late '80s, I placed an ad in the Comics Buyer's Guide, stating that I was a writer looking to collaborate with an artist.

I received a small packet from France that contained comic pages, spot illustrations, and other samples drawn in a style that I had never seen before. The artist's name was Laurent Cilluffo.

(Art Copyright 2007 Laurent Cilluffo)
I was completely blown away.

Laurent kept sending me samples.

I knew that I had to write something that we could develop together.
Laurent's samples was an abstract picture of what appeared to be a man in a jumpsuit, with the lowercase letters "fx" emblazoned across his chest. He seemed to be floating above a fantastic city, among balloon-like objects that were also airborne.

(Art Copyright 2007 Laurent Cilluffo)

My contribution was the back story: Dave Dobson was a scientist who was developing a formula that would allow humans to breathe underwater. Crooks broke into Dave's lab; when he resisted, they attempted to kill him with an injection from an untried sample. Instead, Dave Dobson can float through the air when he holds his breath.
Another art sample had what looked like a man sitting on a small seat that had a mini helicopter propeller sticking up from the back. Laurent indicated that the character's name was "Mr. Unknown," but that was later changed to "Mr. Anonymous" (or "Mr. A"), so he wouldn't be confused with the masked editor of From Parts Unknown Magazine.
I was again inspired by Laurent's images: John Doe (not his real name) is an anti-social bad boy with a mysterious past. His father had ties to the criminal underworld, but John rejected his old man's violent ways, taking up science and inventing over killing. He changed his name, and was accepted at Deco City's Tower of Science, where he has been able to continue his mysterious experiments in secrecy.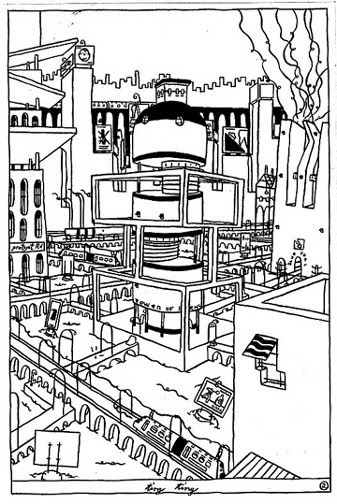 (Art Copyright 2007 Laurent Cilluffo)
Laurent draws terrific architecture and cities. His art style doesn't really fit the popular definition of Art Deco, but he loves comic strips from the '30s and the '40s (the Art Deco period), and I was very influenced by pulp novels from the same era.
I set the story in Deco City, which set the tone for a time and place that looks vaguely like Dick Tracy's world, where all of the gangsters talk like James Cagney and Edward G. Robinson ("See?").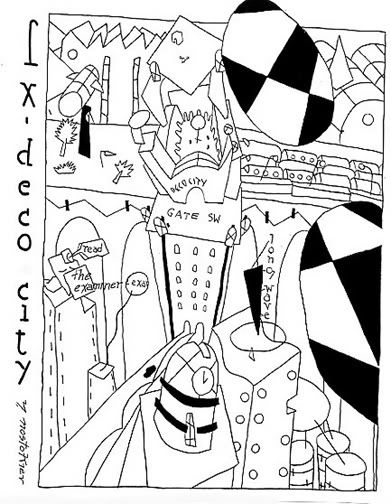 (Art Copyright 2007 Laurent Cilluffo)


That was how fx, Mr. A, and Deco City came to be...



(Art Copyright 2007 Laurent Cilluffo)
fx (always lowercase) was originally conceived as a series of humorous adventure stories with a somewhat avant-garde slant.

The first story I wrote involved a robbery at Deco City's art gallery.
Joe Nitro and his gang blast their way in, only to find a sub-human, troll-like creature trying to steal the nude paintings ("Noodz!")

(Art Copyright 2007 Laurent Cilluffo)
Rival vigilantes fx and Mr. Unknown (as he was then-called) pick up a police report about the break in.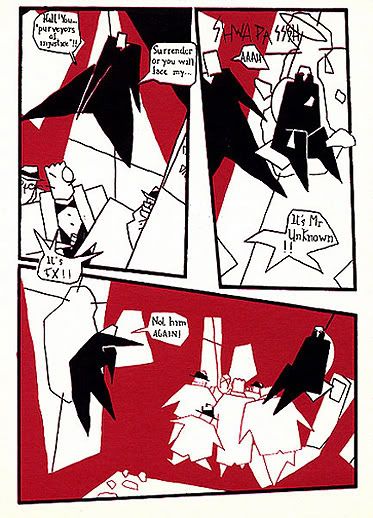 (Art Copyright 2007 Laurent Cilluffo)
Their arrival at the crime scene adds to the confusion, the result being a free-for-all between the crooks, the brute fixated on "Noodz," fx, and Mr. Unknown.


(Art Copyright 2007 Laurent Cilluffo)
Laurent Cilluffo's style has evolved over the years. His early artwork was brilliant, if somewhat abstract.
The first fx story was re-drawn at four times. The samples above are from three of them (the page with the dark, maroon red is the oldest), and it's not the entire story.
The story got easier to follow with each subsequent version. (The page below is the newest.)

(Art Copyright 2007 Laurent Cilluffo)
Editors from Dark Horse Comics and Tundra went wild when they saw Laurent's work. Unfortunately, they were unable to convince their publishers to take a chance on fx.
Ironically, Laurent's illustrations have since appeared in the New Yorker, the New York Times, the Chicago Sun-Times, and many other major magazines and journals. (The link below should take you to a gallery of Laurent's spot illustrations.)

http://www.wandanow.com/Art_Home.asp?ArtistID=25


He has also illustrated a graphic novel called World Trade Angels. Written by Fabrice Colin, it's a haunting love story that takes place around the events of 9/11. One reviewer called it "certainly the finest comic to have been produced about the events of 9/11 to date." World Trade Angels is available in different languages throughout Europe. However, due to the conservative nature of the American comic book industry, it has not been translated into English, and (as of this writing) has not been picked up by an American publisher.
At least one American reviewer recognized World Trade Angels for the amazing work that it is. (To read the full review, click below).
http://www.comicsreporter.com/index.php/briefings/eurocomics/8315/


After taking a breather, Laurent and I are back in action; this time, in a new medium.
In addition to the story about the museum robbery, we had completed an official origin story for fx and Mr. Unknown (now called Mr. Anonymous).

Laurent and his wife, Valerie, adapted most of the comic book into a short, animated film, complete with voice actors, music, and sound effects.
For a preview, click the link below.

The animated movie is very true to our comic, but we're looking to expand the concept into a full-blown series or an illustrated novel; preferably both.
The project is now called Deco City, and the city itself plays a major role in the story. At midnight, the blocks, buildings, and railways rotate like a giant clockwork toy. In theory, this was supposed to discourage areas from subdividing into insular little neighborhoods; all of Deco City was to be one big community. The idea backfired, and now the city is a confusing mess, it's people gripped by paranoia and instability.

The heroes are now teenagers. There is an expanded supporting cast, which includes the Doc Savage-like superhero/scientist who designed Deco City, and who also acts like a pseudo father to Dave Dobson and John Doe.
I'm very excited about Deco City. Laurent's artwork has never been better, and it's exciting to see his images with movement and sound. The new version of the story reflects my current interests, and I can honestly say that I haven't seen anything else like it.