Lucha Libre: World Power Wrestling (Part 1)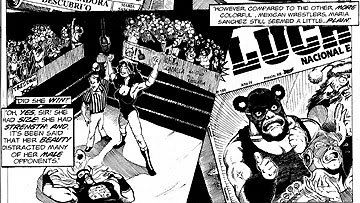 The character Loca Sanchez has roots in the world of lucha libre.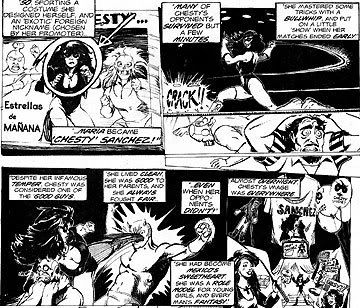 (From Chesty Sanchez #01, art by Scott Michaud and Jay)
Lucha Libre: literally, "free fight." Mexican-style wrestling; an acrobatic free-for all.

Mexican wrestling is very different from American, WWE-style wrestling.
The matches are longer and there's less talk, so there's more time for the wrestlers to act out storylines on pantomime.
Lucha libre action often includes a lot of slapstick: it's faster and funnier than its American counterpart.
Martin Marin's World Power Wrestling promoted lucha libre matches every Sunday in the city of Anaheim, on the side of the freeway opposite Disneyland.
What a spectacle!
They'd build the ring in a parking lot adjacent to a swap meet, put out some folding chairs, and let the action--and the drama--unfold.
Here are some photos (taken by yours truly), in case you missed out on the fun...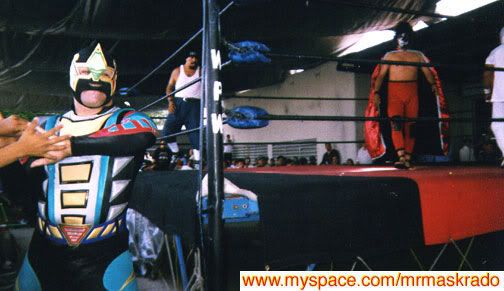 Adventure 2000 makes his ring entrance.
He's a tecnico: "technical fighter," or rule-following good guy.
In the background, rudo--"rude" bad guy--Espectro strides onto the mat.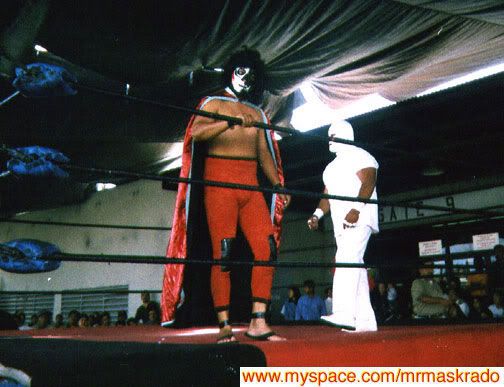 Rudos Espectro and Medico Asesino Jr. (Medical Assassin) pace around the mat, waiting for their victims...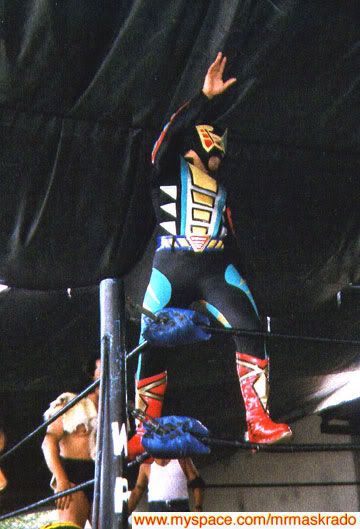 Charismatic Adventure 2000 acknowledges the cheers from his fans.
Adventure is the local hero, and an excellent acrobat.
He trained most of the WPW Superstars.
Behind him: Mexican legend Perro Aguayo.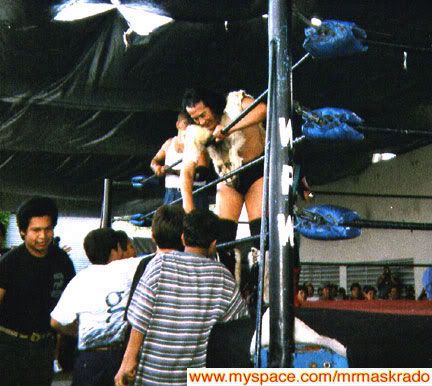 Perro Aguayo has wrestled for decades in Mexico.
Getting a handshake and an autograph from this living legend is a special treat for his Mexican-American fans.
Medico Asesino Jr. is the "son" of one of the wrestlers that appeared in the film "Los Campeones Justicieros"/"The Champions of Justice," which I had planned to dub into English for an American release.
Medico is playing a rudo here, but later he graciously gave me some of his time to film him for a new wrap-around segment for the movie.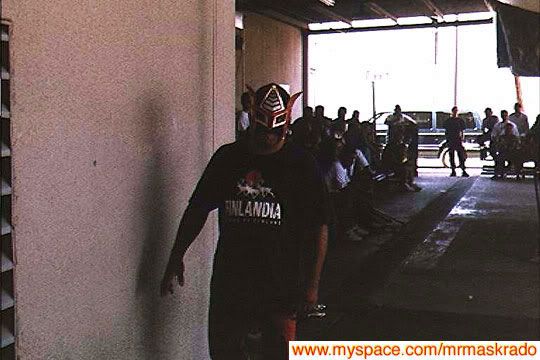 A candid shot of Adventure 2000.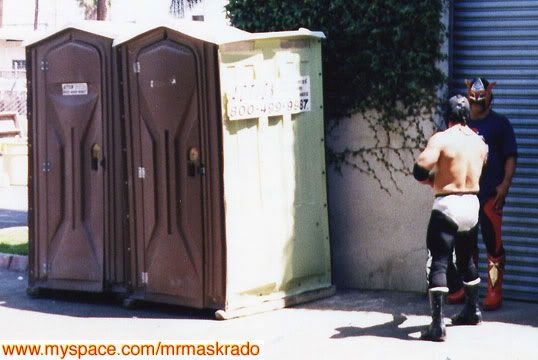 Masked Mexican superheroes have to wrestle with their bladders when the Port-a-Potties are "Ocupado."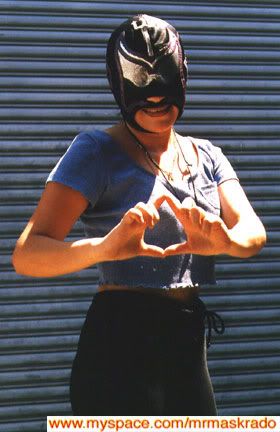 Here's Black Diamond, flashing her signature diamond-shaped hand sign.
Don't let that sweet smile fool you: she's actually a ruda ("bad girl").

Black Diamond and Black Widow gang up on Pink Butterfly.
Looks like the Ref is staying out of it.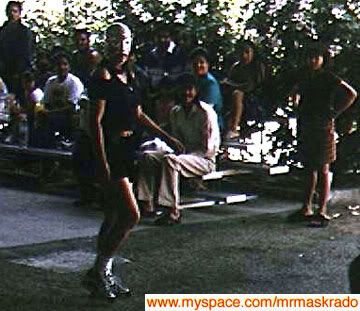 "Pink Butterfly has left the ring!"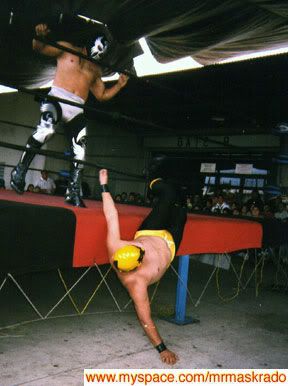 Black Angel knocks a yellow-masked opponent out of the ring.
The crowd goes wild!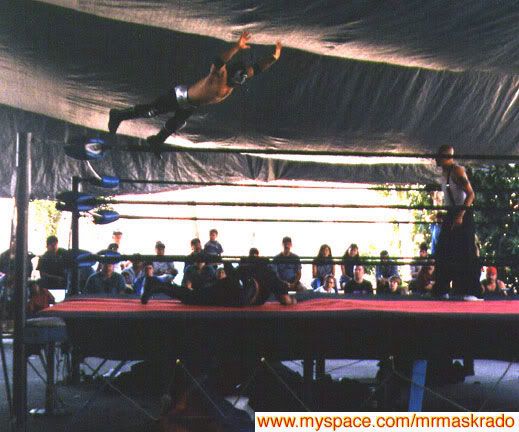 Black Angel leaps off the top rope, and splash-dives onto another victim!
The crowd goes wilder!
El Cholo (another local favorite), acting as referee, looks on.
Black Widow orders two burritos.
One of Los Gringos Locos (The Crazy White Boys) already took care of the drinks.
On hot summer days, it was not uncommon for the wrestlers to swipe drinks and water bottles from members of the audience, and fling them into their opponent's faces.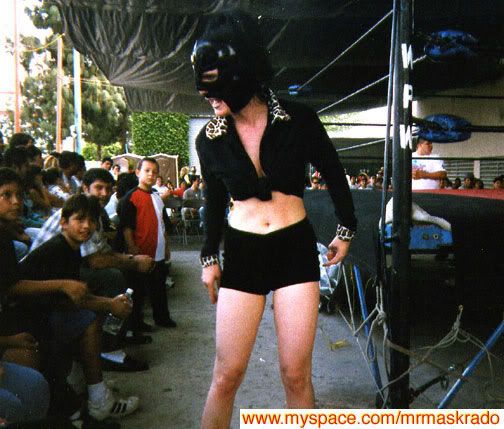 Black Widow isn't Mexican, but she knows a few Spanish words and phrases that would be rated NC-17.
When the kids would swear at her, she'd let them have it right back!


Black Widow hands out phony green cards to the predominantly Mexican audience.
No wonder they "love" her.
The young boys (left) are completely engrossed by the bloody, mask-ripping shenanigans.
Tearing an opponent's mask is a vicious insult.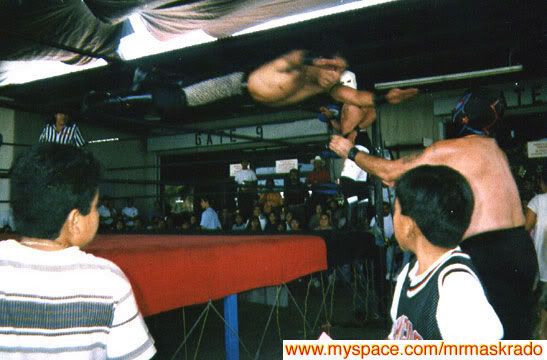 No wires were used for these flying wrestlers!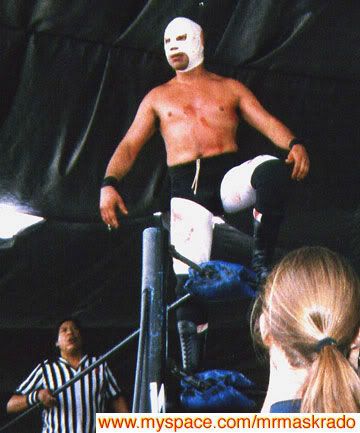 This is a typical proud pose, after a bloody victory!
"I am Kayyam!"
The Fist-In-the-Air Stance of Power!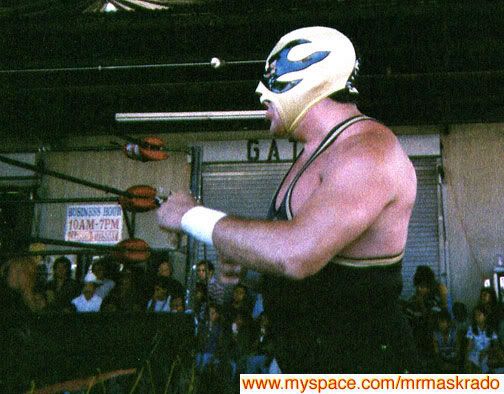 Kayyam's tag team partner: Mascara Oro ("Gold Mask")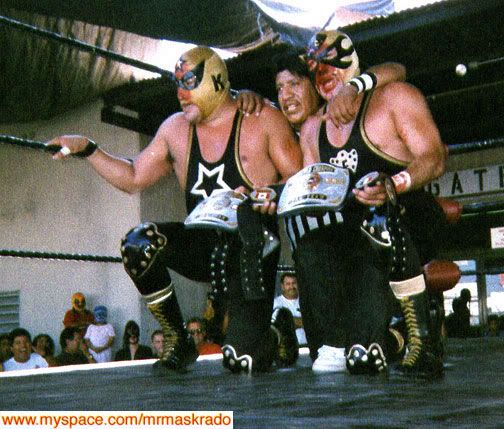 Another bloody match, but, "Somos los campeones, mis amigos..."
("We are the champions, my friends...")
Check out the kids wearing their masks in the background.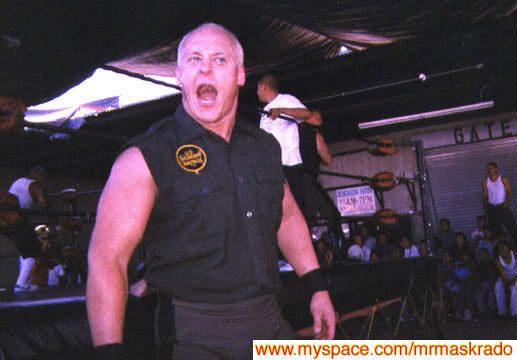 La Migra is a tag team based on the immigration police.
They were the most-hated tag team I've ever seen.
The moment they walked out, the audience went ballistic, and those two guys used every trick in the book to work the crowd into a bigger frenzy.
They played the Border Patrol-as-neo-Nazis angle to perfection.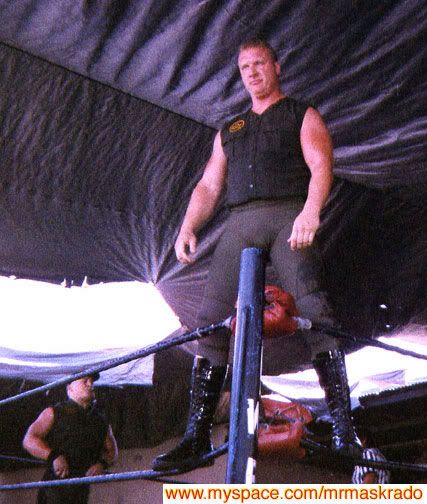 The guys who play La Migra are terrific wrestlers, and convincing actors.
They should go far--if they aren't lynched by an angry mob first.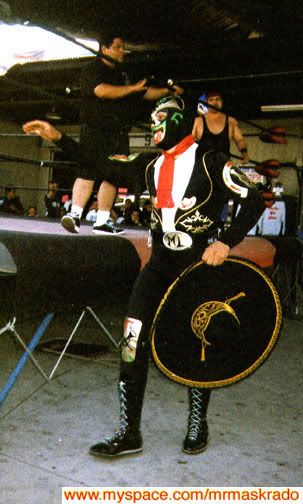 On the other hand, Mariachi Loco is loved by everyone, especially the kids.
Mariachi Loco's wrestling style is as goofy as his image: he does lots of slapstick.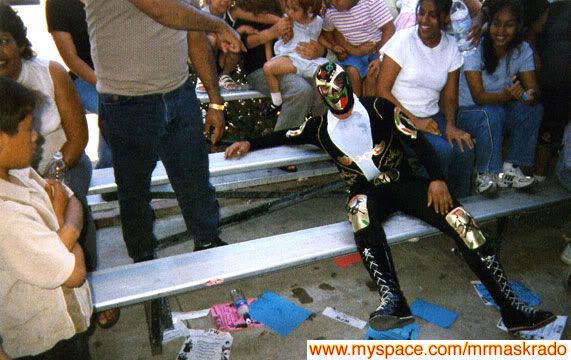 Mariachi Loco's mask design is comprised of two crossed trumpets, musical notes, and a red tongue flopping out of his mouth--because he's "loco" (crazy), get it?!

Despite his goofiness, and the fact that he's had his butt kicked into the bleachers, Mariachi Loco is popular with those two ladies.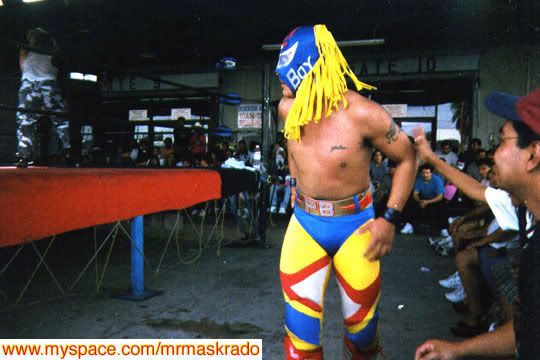 Super Boy does lots of high-risk acrobatics.
Some of that yellow fringe got torn out during the match;
lucky fans picked it off the ground, and took it home for souvenirs.
The Main Event is coming up next!
Stay tuned...