THE ORIGIN
OF

LOCA SANCHEZ

The Chesty Sanchez

Gallery (Part 2)
Welcome once again to the
GALLERY!
If you've already seen Part One, then you are familiar with the evolution of Chesty Sanchez, and the artists who have brought her image to life.
Here you will see additional character studies and pin-ups, covers to the Mangazine issues that contain the Chesty Sanchez/Warrior Nun Areala text story, and read about Chesty's "official" transformation into Loca Sanchez.

A gorgeous "good girl" headshot by AC Comics/Femforce artist & editor Mark Heike.


An action pose, also by Mark Heike.
This must have been based on Laura Molina's back cover painting, because here Chesty's has black leather gloves, a whip, and a revolver that do not appear in the comics.


A Vargas-style, "good girl" pose, by the ever-awesome Richard Domingez.
The mask worn by El Gato Negro, Richard's most famous creation, is dangling from Chesty's toe.
Nobody, but nobody, can draw a sexy woman holding a smoking gun like Rafael Navarro.
In his Sonambulo comics, Rafael shows that he is a master of light and shadows. His artwork can tell a story with just a brush strokes.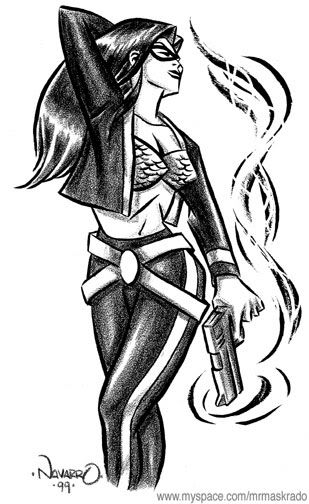 Rafael simplified Chesty's costume somewhat, but I have always been wide open to different interpretations.
Here is Rafael Navarro's (previously unpublished) gothic rendering for the Chesty Sanchez/Warrior Nun Areala story that ran in Mangazine.
Graveyards are another of Rafael's specialties.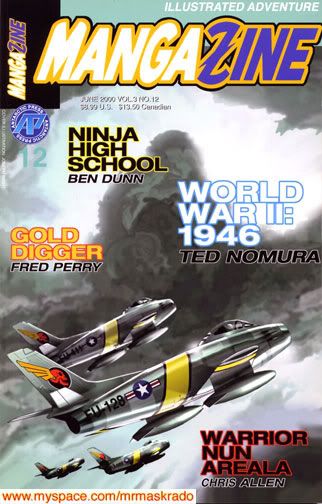 This is the cover for Mangazine #12, which ran the first installment of the Chesty Sanchez/Warrior Nun Areala crossover.
It was a text story, with spot illustrations by Richard Dominguez.

Ignacio Montes' painting was used on the back cover to promote the story.
(See lower right corner.)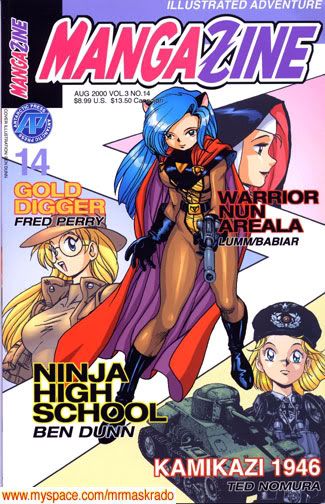 In the second installment, just about every major character created by members of the Professional Amigos of Comic/Cartoon Art Society (P.A.C.A.S.) teams up with Chesty to combat a threat that menaces all of Mexico City.
Laura Molina's painting graces the back cover.
(See lower left corner.)


Mangazine has been reincarnated several times over the years over the years. It was one of--if not the--first showcases for American artists influenced by Japanese manga and anime (comics and animation).

Mangazine Vol. 3 (shown here) combined four full issues of Antarctic Press' top color titles for that month with several black and white pages of comic stories, anime news and reviews, and short stories (including my Warrior Nun Areala/Chesty Sanchez crossover).

Once again, Laura Molina's artwork represents Chesty among Antarctic Press' galaxy of superstars.

-----------------------------------------------

After the crossover with Warrior Nun Areala was published, I felt it was time to make a final break from Chesty's "adult" comic roots.

So the re-vamped version of Chesty Sanchez is heretofore known as:
LOCA SANCHEZ.
I re-edited the Chesty Sanchez/Warrior Nun Areala text story, changing names and tweaking descriptions to bring everything in line with my current vision of the character and her world.

I won't completely abandon Chesty Sanchez; after all, there are several very different versions of Teenage Mutant Ninja Turtles, each aimed at different audiences and age groups.
But Loca Sanchez represents the future of the comic and the character.

And you'll have to read the Loca Sanchez/Warrior Nun Areala story to see the major changes her sidekick, Trompeto, went through...